Have you considered camping at the race?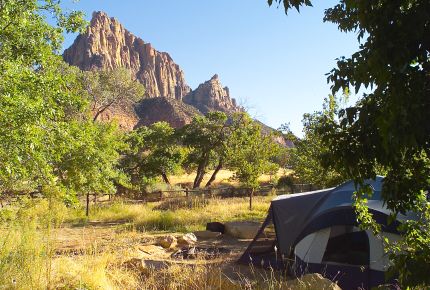 When it comes to camping at the race you basically have three real options.
Watchman or South Campground (inside the park)
Zion Canyon Campground (just outside the park in Springdale)
Zion River Resort (walking distance from the starting line in Virgin)
Watchman & South Campgrounds
These campgrounds are immediately inside the park on the South entrance. They are both within easy walking distance to the race expo, race shuttle pick up and finish line. You can make a reservation for Watchman by clicking here. Last I checked there are 43 sites still available for the night of the 22nd.
South Campground is available on a first come first served basis and is more primitive with no hook ups at all.
Both of these are good options, it is tough to beat staying inside the park.
Zion Canyon Campground
This campground is less than a half mile from the entrance to the park in Springdale. It has all the hook ups you need for an RV and has some tent sites as well. It is also walking distance to the race expo, race shuttle pick up and finish line. You can get sites right along the river and there are showers and even a pool(although it is unlikely to be heated on March).
Zion River Resort
Another option is to stay right at the starting line. This property is immediately next to where the race will begin in Virgin. It is very secluded and quiet and is the only option that will allow you to sleep in until 6:30am on race morning. :)
They have showers and a pool and it is a short 13 mile drive to get to the park from here.
Zion Trailer Rentals
To get a good night's sleep you should consider renting a trailer from Zion Trailer Rentals. These guys are awesome. They will set you up and take you down as well, they make it easy to camp, plus all of their trailers are brand spanking new. They will deliver RV trailers to Campgrounds in Springdale, Watchman and Virgin Utah.
They are even offering a special discount to runners: All racers take a additional  5% off already low off season rate for trailer rentals only (delivery rate not included). 
Plus, rent from them and receive 20% off campsite rental at Zion River Resort.
They have all brand spanking new 2013 trailers!  These things are super comfortable with Heater and AC. Refrigerator, microwave, coffee pot, toaster, stove, shower, toilet and bath. TV/DVD/CD. They can sleep your whole team between 2-10 people.
They currently have full hookup campsites at private RV campgrounds available for their clients for the race weekend. These spots are filling fast so please make your reservation ASAP.