To our loyal runners- we love you and we are so grateful you choose to run with us. We have some important updates to share with you today.
Rotating Schedule & Extended Calendar
If you're familiar with Vacation Races and ran races with us prior to last year, you may have noticed we didn't hold certain events in 2018. 

What we're finding (after being in this business going on 8 years!) is that some locations probably don't merit having a race every single year. Some runners like consistency and running their favorite events year after year. Others run each race once with a goal of running the whole series. Either way you do it is perfectly okay with us. If you ran the Rocky Mountain Half Marathon last year, you might prefer to try the Mount Rushmore Half Marathon this year, and maybe the Glacier Half Marathon next year.
So, to support that, we're moving some of our races to a rotating schedule. Some will take place one year, others will take place the next. For example the Yellowstone Half Marathon & 5K will not take place in 2019, but it will return in 2020. We've published our extended race calendar through 2021! We know that planning your race calendar can be tricky and we want to make it easier for you. This extended calendar provides a longer look into the future so you'll have more info available to help with your planning.
Understand, that this overall calendar is subject to change, but this should help you better plan for the future.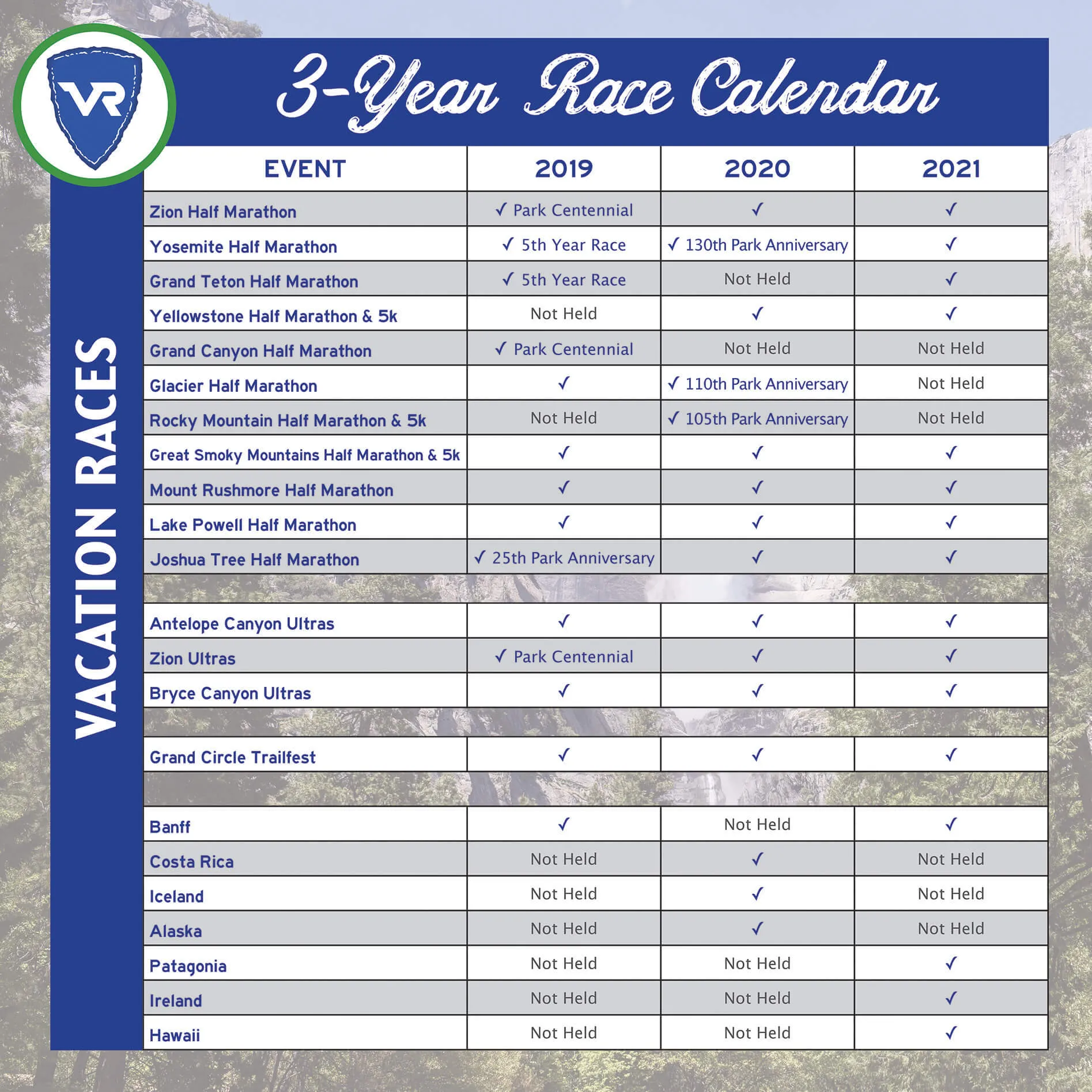 New Logo/Medal Designs
Another thing you may have noticed since 2018, is the design change in the finisher medals. If you run a half marathon that you have run before, you will get a totally new medal design. It's a little reward for anyone that run the same race multiple times. Why should you go home with the same medal every year?! The designs will showcase different icons at each park, so you can collect all of them. Here's a sneak peek at some of the designs:
---
Thank you so much for running with us. We hope you're as excited about the extended calendar and medal designs as we are. We look forward to seeing everyone at the races this season (and next season, and the one after that). :)