"Jobs fill your pocket,
adventures fill your soul."
We host events at the most breathtaking places on earth.
We value quality time with loved ones, exploring the world, enjoying nature, doing good, pushing our boundaries, and making lasting memories.
Come Explore The World With Us
Get an early heads-up when new races launch or prices are about to go up. Plus you're automatically entered into our monthly giveaway drawing!
We're one of the only race companies that lets you:
Great event!
I just wanted to extend a THANK YOU on behalf of myself and my 2 friends (who I dragged along to run the 50 miler) for putting on a great event! Please pass this message along to as many of the squad / volunteers possible for making the race so well run.
Dude in the official race shirt crop top
Grand Canyon Ultra Runner
Stunningly well organized race experience. Everything about the day was just beautiful and well executed. So inspirational and fun, I would like to come work for you. Of course, it didn't hurt that I won my age group so my opinion might be slightly biased. ;)
Derek J Brouwer II
Yellowstone Half Marathon Runner
Another AWESOME race experience!
On behalf of the Half Twisted Runners I want to thank Vacation Races for another AWESOME race experience. Time and time again you deliver a high quality and well organized event. Although the cousre change made it a bit more challenging, the views wre much better than last years race. You all should be very proud of this event and I look forward to coming back next year......You guys ROCK!!!!
Definitely a highlight so far this year
Standing in the middle of nowhere at 5 AM with almost 2000 other runners, watching the sky turn pink and waiting for this run to start, was definitely a highlight so far this year. Hope to do it again.
Gary Anderson
Glacier Half Marathon Runner
Awesome race - thank you!!!
Doug Calton
Lake Powell Half Marathon Runner
Bucket list trip!!!
Thank you so much for an amazing bucket list trip!!! everyone was amazing!
Laura Adams-Allen
Trailfest Participant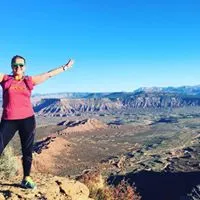 I was recently featured on the Boldly Went podcast sharing the story of running my first 100-miler at Bryce (mine is the second story). I look forward to returning to Bryce for a do-over, but I also wouldn't change my first experience for anything. Thanks!
Ellen Bayer
Bryce Ultras 100 Participant
Fun times & great course...Our very first VR
Geri Mae Howard
Lake Powell Half Marathon Runner
Vacation Races, you have spoiled me!
So far, of all the races I've ran, VR have been the best supported races with the coolest finish. This was a tough and rewarding course. I will do it again.
Christopher Dumais
Lake Powell Half Marathon Runner
Great Event
Thanks for putting on such a great event! Also a huge shout out to all the volunteers, and the folks cheering us crazy people on!
Katrina Morrow
Bryce Canyon Ultras Runner
Great event!
Great event! Course was as difficult as it was beautiful. Vacation races are the best!
Beautiful race and well organized
This was a beautiful race and well organized! Thanks :D
Jadi Hansel
Yosemite Half Marathon Runner
This race was amazing, fabulous job everyone!!!!
Claire Karol Weis
Shenandoah Half Marathon Runner
Organization and Amenities were Fantastic
Thank YOU for an incredible race! The scenery was beautiful and I personally feel that the organization and amenities were fantastic. Great job, I'm already looking forward to next year!
Trevor C.
Grand Teton Half Runner
Absolutely amazing!
Trailfest was absolutely amazing! Very well organized and so much fun! Thank you everyone who helped put this event together!
Staci Geiselman
Trailfest Participant
Can't say enough amazing things about it!
I have been tracking all the races for several years now trying to find the courage to try one. I was afraid I bit off more that I could handle but ended up having my best time so far this year! It was challenging and beautiful and you can tell the staff are all passionate about what they do and helping others find and keep the passion too! I thought the attention to "details" was the best. A trash can at ever mile marker, aid stations every two miles during the toughest parts, a gear drop between miles one and two, coffee and hot chocolate with reusable cups. I could go on and on. To top it all off the club challenge is an amazing add on! Very worth it!
The courses are always incredible
Have done Rocky Mtn twice and Yosemite once and can second that you guys are great. So much easier to deal with than a certain Mouse controlled race series and the courses are always incredible. Looking forward to Teton in June!
Big Fat Bug Face Baby-Eating O'Brien
Yosemite & Rocky Mtn. Runner